Round 10 – Norths Devils 18 vs Falcons 26
tpc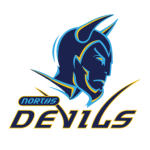 | # | Player | Position | Sponsor |
| --- | --- | --- | --- |
| 1 | Luke Polselli | Fullback | |
| 2 | Nat McGavin | Wing | |
| 3 | Grant Anderson | Centre | |
| 4 | Kane Jackson | Centre | |
| 5 | Blake Wilson | Wing | |
| 6 | Jack Wright | Five-Eighth | |
| 7 | Daniel Atkinson | Halfback | |
| 18 | Darryn Schonig | Front Row | |
| 9 | Tyson Smoothy | Hooker | |
| 10 | Max Bailey | Front Row | |
| 11 | Thomas Rafter | Second-row | |
| 12 | Louis Geraghty | Second-Row | |
| 13 | Patrice Siolo (c) | Lock | |
| 14 | Sam Burns | Interchange | |
| 15 | Ryan Turner | Interchange | |
| 16 | Campbell Duffy | Interchange | |
| 17 | William Toloi | Interchange | |
| | Brad Henderson | Coach | |
The Vantage Homes Falcons had a tough 26 – 18 win over last year's Premiers, the Norths Devils, down at Bishop Park on Saturday evening to hold on to 2nd place on the Hostplus Cup ladder and set up a huge game this Saturday against the 1st placed Burleigh Bears here at Sunshine Coast Stadium at 4pm.
With regular middle forwards Darryn Schonig and Campbell Duffy coming down with the flu prior to the match and backrower Jack Gibbons out with a hamstring strain, it forced a shake-up to the Falcons side and gave a well-deserved Hostplus Cup debut to middle forward Rowan Jardine and brought Tom Rafter into the starting side with Laz Vaalepu and Nat McGavin back onto the bench.
It took 24 minutes for the Falcons to crack the Devils defence with a perfectly placed grubber into the in-goals from Tyson Smoothy allowing Storm contracted Tyran Wishart to land on the ball for the first points of the match. The Falcons went into half time 12 – 6 up thanks to a try from backrower Tom Rafter.
In a tight match the Falcons never really felt comfortable until Sam Burns pounced on a Tyran Wishart grubber in the 75th minute to push the score out to 26 – 18 and give the Falcons their 7th win of the season and open up a 3 point gap to the 3rd placed CQ Capras.
Watch the match highlights here – https://www.qrl.com.au/news/2022/06/05/round-10-highlights-devils-v-falcons/
Our Vantage Homes Falcons Colts managed their 5th win of the season with a 28 – 12 win over the Devils.
Young outside back Mason Peut continues to impress this season with the winger claiming a hat-trick in the 5 tries to 3 win.
The win has the Falcons Colts in 5th position on the Hastings Deering Colts ladder.
The Colts take on the Bears at home this Saturday at 2:15pm.
See all the scorers for all grades here – https://www.qrl.com.au/draw/?competition=114&round=10&season=2022